Via Feratta "Iron pathway" - Dolomites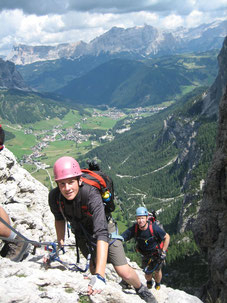 Learn how to clamber around at over 1500ft on the rocks in a completely safe and controlled environment.  You are always attached to a wire whilst exploring the WW2 front line on these incredible war time "pathways". 
Most Via Feratta's end up by a Cafe/Refuge followed by a cable car ride down.
Its the most specatcular way to explore the mountains without any mountaineering experience... 
Pre requisite, can you climb a ladder!
Experience mountains without any experience! at 1500ft up
What is a Via Feratta? -
"Iron pathway" is the Italian translation, they are used to get the public into the mountains with minimal experience and skills required for mountainous regions.  In effect,  a range of protected scrambling routes that are graded from complete beginner up to vertical sectioned wire assisted routes with ladders, wires and bridges for you to access unbelievable routes that would not be achieved unless you were an expert climber...
Where are they?
Generally, all over the world in various forms.  They are split into 'Sports routes' that are designed for tourism in mind and crop up usually in ski resorts around Europe.  'Classic routes' are the original ones and the most spectacular.  Located in the Dolomites that are old access routes used from the WW1 and WW2 that the troops used to get to the 'Front line'.  Now completely serviced and maintained yearly the tourism of Via Ferattas is aimed at the Public who have some form of confidence at height but maybe, do not have the skills of mountain climbing.  Areas for Via Ferattas - Dolomites (combined with Paragliding, Rafting etc),  Val d'Isere (combine this with Summer skiing and Paragliding, Hydrospeed & Canyoning).
What's offered? -
With vast experience of taken over 250 persons in this area, we can advise you where and when to go.  From simple long weekend trips up to full blown 10 days combining both Via Ferattas, Paragliding, Canyoning, Free fall, Summer Skiing, Hydro Speed, Rafting and Mountain Biking.
You cherry pick what you require out of your holiday and advice will be given from simple cheap camping to luxury hotels with spa facilities.  This can all be combined with section under "sun trips" that culminate in a varied and exhilarating program in the following areas;
Jungfrau region, Switzerland 
Sella Ronda, Dolomites, Italy
Equipment? -
As individuals or groups we can provide all specialist equipment associated with Via Ferattas.
Guiding and Advice -
You have different options from "Self Guiding" up to "Hosting" by our staff that have a thorough knowledge in this area to get the maximum out of your trip and create a program to suit you.
Contacts -
Go to the contacts section to ask any questions you require.