Sky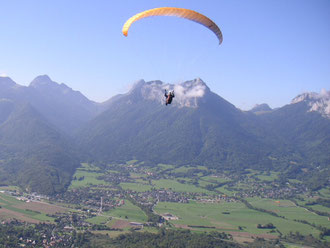 Sky- Paragliding overview -
With paragliding you enter a whole new world that you've never experienced before.  The sheer joy on someone's face after they have landed is rewarding for you just to see someone else enjoy the benefits of flight.  On offer is advice as to where to fly within Europe which can be combined with a "hosted" trip that offers you knowledge, based on experience in that area before.
Where to go? -
Large selection to choose from includes;
- Dune de Pila, Bordeaux.
- Corvara, Italian Dolomites
- Jungfrau Region, including Wengen, Interlaken, Grindlewald and Murren.
- Lake Garda, Italy.
- Les Menuires in Winter.
- Cliff flying along South Coast UK.
- Slovenia
U Tube links -
The following have short 1 minute links to YouTube to see what these areas are like.  Links above in RED
Other info -
Whether you need to combine this with other options whilst on Adventure Days or Sun Trips this would be a fantastic addition to your holiday that gives you thrills unlike other outdoor pursuits you've experienced before.
Go to contact me section if you need to discuss options for your trip and possible "hosting" sessions around Europe or UK.