Powerboating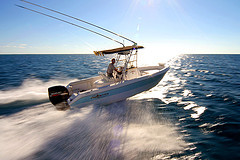 RIB's Overview -
The options for the RIB rides from a short 2hrs fun packed water skiing or wake boarding session to tours around Poole Harbour and up to the Isle of Wight or maybe book now for a ride to watch the 2012 Olympics are endless.
Poole harbour is the second biggest natural harbour in the world.  We have various pick up points including Ridge Wharf Yacht marina on the River Frome, Dolphin Haven marina, Poole Quay, all within easy reach of the Solent, Heritage coastline and beyond.
Types of RIB available and facilities -
The 7.5metre RIBEYE sports are capable of stunning speeds in excess of 50mph! 200hp, HPDI Yamaha outboard has seating for 10 plus skipper.
Fully Maritime and Coastguard Agency coded to category 4, 20 miles from any safe haven in daylight and fair weather.
Safety 12 person MCA approved.
Solas B life raft.
Manual lifejackets and waterproofs GPS colour plotter.
VHF radio, Flares, Charts Clarion CD player.
Types of Tours available -
Jurassic tour - It's time to travel back in time as you head for the open water of Studland Bay. From Old Harry Rocks (65 million years old) it's on, past Durlston, the gateway to the Heritage Coastline. From here we tuck into the limestone cliffs, view the climbers at Guillemot Ledge, the quarries of Dancing Ledge and Winspit then on to St Aldhelm's Head and a chance to play in the choppy waters. Then it's back to Swanage Bay where we stop, have a brew or something stronger, a stroll to the end of the pier before the return trip to Poole Harbour and journeys end. The whole trip will last around 3.5hrs.
Event Days - The RIBs can also be combined with other activities which run at Brenscombe the most popular are listed below. Event days consist of a half day RIB charter plus 1 of the activities listed below, times and numbers apply to other activities not the RIBs.
RIB + Dragon Boating from Cleavel Point in Poole Harbour
RIB + Ropes Course RIB + Climbing and Abseiling at Dancing Ledge
RIB + Mountain Biking in Rempstone Forest
Each RIB can take a maximum of 10 passengers. If you have more than 20 passengers we can resource other RIB's as required.
Water ski, Wake board and Ringo rides - these can be arranged within the safe confines of Poole harbour or out at Studland Bay with spectacular views of the Old Harry Rocks.
Contact and enquiries -
If you need some advise about RYA course near you or just want some fun whizzing around the water, whilst combining other elements to make an action day of it.  Please don't hesitate to contact me.