The most uptodate reviews please tap in "Jim Oakley Adventures" on google maps and see the current reviews there. Here's a small selection of emailed ones.....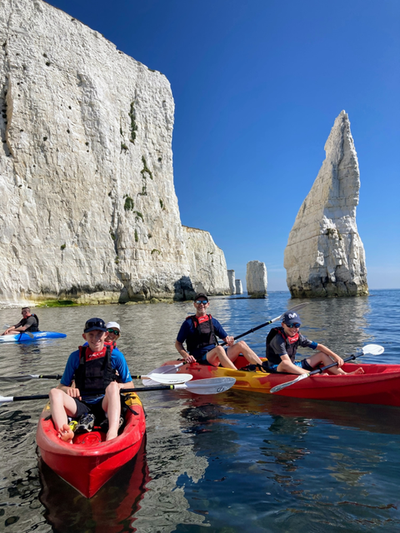 FAMILY KAYAK TRIP - OLD HARRY ROCKS, DORSET - Jul 23.
Jim arrived prompt at the meeting point and explained everything well and concise.  Our Kayak adventure to the fantastic rock formations and pools of "Old Harry Rocks" suited our family of two 9/10yrs kids.  Nice new equipment and good local knowledge. 
5* star recommended  
Clare & Martin, Putney
28 Feb - 06 Mar 23 # Climbing trip in El Chorro, Nr Malaga, Spain
We were new to the area of El Chorro, and met Jim who was in our backpackers hostle where we were also staying. "The Olive Branch"

The following day he guided us around the multi pitch routes showing the best spectacular settings that we may not have found. 
A delightful, safe, friendly and professional service - thank you
Celia & Catherine
Baisogala, Lithuania
22 Henderman Road London
Envoyé de mon iPhone 
Tom's Stag group 11th Jul 22 - Dancing Ledge, Dorset BH19 3HG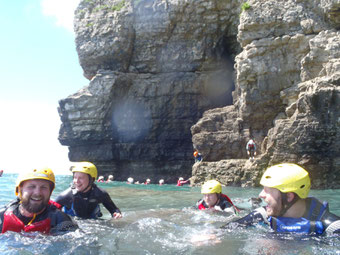 ".....Jim's efficient replies and booking system along with info provided and great price made the choice of Coasteering a simple process for our group.  Some were a little nervous for this new activity, but Jim provided a structured and progressive and challenging session to meet some of the groups needs, 
A great session, thank you and thoroughly recommmended...."
Tom, 28 Henderman Road
Clapham
London
Coasteering at Dancing Ledge - 14th Sep 21
If you have slightly difficult kids (especially teenagers) then Jim is your man.  He has a great way about him that means the most reluctant of the group are soon fully involved with big grins on their faces.  
He has become such a family favourite that my son refuses to go with anyone else other than him.  He is super safe, confidence building and fun.  You won't regret exploring with Jim.
Ingrid, Adam, Jo & Mere Hinton, Twickenham
Climbing at Dancing Ledge - 17th Sep 20
 If you are considering an activity with Jim Oakley, don't think twice about booking, you are sure to have a great time. We have just completed a morning of climbing and abseiling – Jim proved to be an excellent instructor, he quickly assessed our capabilities and gave us all a fantastic experience. The location was stunning, the equipment clean, in almost new condition – what a day – can't wait to do more climbing!

Mrs Anne Dye (Weymouth), Mac and Emily (Cardiff)
Sutton Poyntz, Weymouth, Dorset
Climbing and Kayaking......24-26th Aug 19
What a excellant few days, we booked Jim to run a combination of climbing & kayaking with our kids and a few friends over the summer break.
With nice clean equipment, he created a great package which suited all our levels.  Kayaking around Old Harry rocks, Dorset and local knowledge during this tour provided a grat stepping stone to the next activity of climbing. 
He met us at our campsite (which he recommended) and we walked over incredible views of the Jurassic coast to our climbing area.
With sun shinnig and refreshments provided throughout, I would recommend Jim for these simple but specatcular activities at a reasonable price. 
The kids loved it and I was pushed on the climbing to overcome my fear of heights which Jim did carefully and with empathy.  Well done and thank you.
Rachel Duncan
Kingcoed farm
Nr Raglan
Monmouthshire 
Moroccan Exped - Jul 18
"I have just come back from the best World Challenge trek in Morocco.  It was hard trekking in up to 41 degrees heat of the day over the High Atlas Mountains.  Our leader was Jim, who kept us going with his humour, encouragement and understanding..  He was brilliant with the guides and local children.  Jim's obvious experience and energy made the whole trip run smoothly and his top tips were certainly worth listening to.
Jim, is a perceptive people person who is easy to talk to, and who can empathise with everyone.  There was a lot of laughter, fun and singing and the students are unanimous in their intention to repeat the experience".
Mrs Linda Elliott
Head of Science Dept.
John Henry School
Stevenage.
Mountain & Dolomite Adventure - Aug 2017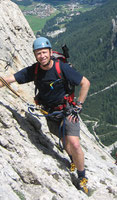 "Jim, thanks for a great holiday in the Dolomites last Summer. 
Having been with many guides before and with considerable mountain experience myself, I can honestly say that your planning and execution of the adventure holiday was the best experience that myself or my son have ever had on a multi activity holiday.      
      You combined your deep knowledge of many outdoor activities with a very good understanding of what the group were looking for.  I was really impressed that you tailored the holiday so well to accommodate the different age groups and also the changing weather conditions. 
When can we go again?" 
Paul and Chris of Southbourne, West Sussex
Paul Mansell
Director
Moorhouse Consulting Limited
mobile:     +44 (0) 7795 302258
email:       paulmansell@moorhouseconsulting.com
Ropes cse - Corfe Castle, Purbecks - Mar 18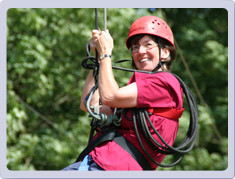 "Jim, was our instructor for the day with my group.  His planning of the tasks that he set us to develop and test our group was varied, enjoyable and great fun.  His sense of humour and understanding of the needs made him an excellent choice for the afternoons activities.
    We were challenged in a variety of safe and team-building games that made us work to our potential at varying levels.  Jim's ability to identify the weaker members of the group and to motivate and encourage them to feel part of the team was inspiring and would recommend his as a facilitator to anyone".
Jan Drews
Leader management team
Network Rail Group
Family holiday - Dolomites, Italy - Aug 2018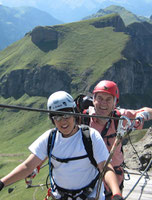 "Jim put together an awesome programme for our group, aware of our different levels of skill and fitness. He led with confidence and good humour but with a firm eye on safety. I couldn't think of a better way to discover the higher reaches of the Italian Dolomites, excellent week".
Richard and Jack Gourlay, North London – 
all the best
Richard 
Richard Gourlay
Managing Director
Sussex Place Ventures Ltd.
18-20 Huntsworth Mews
London
NW1 6DD
United Kingdom


Jurassic Coastal Walk - Aug 2012
"Jim was a fantastic guide during our long weekend at the Jurassic Coast. He was fun and efficient, a meticulous organiser and a superb person to talk to. We all had a great time and made friends for life which I really would have to attribute to Jim's skills to let people feel safe and secure, to be able to have fun and relax. I would definitely recommend Jim as the best person to organise you an adventure of a lifetime."

Jana, London