Ropes Course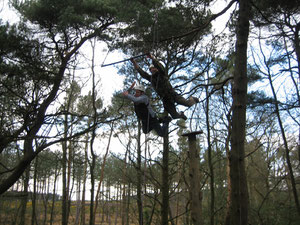 Ropes Course Overview - 
Ropes course are slightly similar to 'Go Ape' or 'Adventure Quests' in that they are like assault courses but in the ariel form.  However, these ropes courses concentrate of team development and personal goals and comfort zones which are not identified on "Go Ape" sessions as you tend to be left alone to navigate your way through the trees.  Using mainly natural trees and occasional man made structures this makes the elements that you and your team exciting and varied within a woodland setting.  They are separated into Low and High ropes. 
Where is it and what does it offer -
Situated near Corfe Castle  this is the second largest ropes course facility in UK. This unique facility offers groups a fun and challenging experience. All sessions provide everyone with the opportunity to stretch their own perceived personal boundaries, resulting in:
Personal growth
Increased confidence
A real sense of achievement
Sessions can also be used to develop personal, social and team skills as well as for having an enjoyable, exciting day in all weathers. 
Who for -
Programmes from half a day to several days can be designed to meet your needs and budget.  We can cater for a variety of individuals and groups including:
Families                                      Team Building
Youth Groups                             Colleges
Scouts                                         Schools
Children's Parties                       Training Centres
Guides                                         Personal Development                                
Sports Clubs                              Management Training
Educational Groups                   Fun Events
Social Groups                            Business Groups
Social Clubs                               Sports Clubs
Stag / Hen Parties                    
All participants will be set a variety of challenges throughout the session that range in complexity and height.  We believe that everyone must enjoy their experience as well as be challenged by it.  To achieve this, individuals consider the various challenges and choose what they want to try and how high they wish to go.  No pressure will be placed upon individuals to perform.  All instructors are trained to ensure that you will not go beyond your own physical or emotional boundaries.
What's at the Ropes Course? -
With over 50 elements that are situated in a picturesque forest, surrounded by rhododendron bushes.  Key challenges are selected for each group depending upon age, physical ability and your objectives for the session. Types of challenges include: Zip Wire, Low Elements, High Elements, Cows Tail Course, High Team Elements and Low Ropes Challenge Course.
Types of program -
A typical sample One Day Programme would be;
0930hrs - Meet at Ropes Course
Introduction to staff & course safety briefing & equipment issue.
0945hrs - Low Ropes Various challenges taking place around the woods, mainly on elements less than one metre high. Good for developing confidence in the group, the equipment and the staff.
1115hrs - Tea / Coffee Break
1130hrs - Introduction to High Ropes with a few elements involving the use of harnesses and ropes as individuals to try challenges up to six metres high as they learn how to operate the safety systems.
1230hrs - Lunch
1330hrs - High Ropes more challenges set throughout the afternoon with each individual controlling how much they do and how high they go.
By the end of the afternoon, if they choose to, participants could be on challenges up to twenty metres high. We recommend a ratio of 1 instructor to a group of 8 to ensure maximum quality of experience for the team and the individual. However the maximum permitted is 1:10 for high ropes and 1:12 for low ropes. If you choose to pay for additional instructors, you will be able to experience more elements during the session.
1630hrs - Finish
Enquiries -
If you need questions answered or want some costings for your requirements, contact me