About Jim Oakley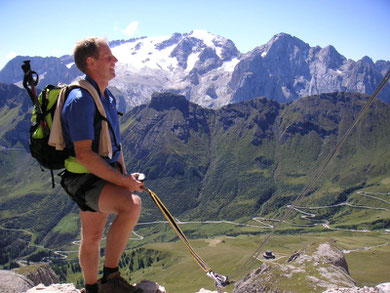 I joined the Royal Marines in 1985, serving with the Landing Craft Branch before becoming a Physical Training instructor and subsequently leading sports and adventure training expeditions. As a trained leader in a wide variety of outdoor activities I coordinated and ran numerous expeditions throughout Europe and Caribbean.  My forte was in organisation and taking  "Training Camps" & "Personnel Development" designed to push individuals safely to the edge of their comfort zones. 
The camps included:
Climbing and Via Feratta in the Dolomites
Abseiling and Climbing in UK
Advise on Boot Camps
Ski training weekends and camps in Europe (winter and summer)
Cycle training sessions in UK and Spain (on and off road)
MTB guiding services
Windsurfing around UK, Egypt and Caribbean
Diving in Egypt and Caribbean
Sailing in Med and Caribbean (BVI's)
Climbing multi activity weeks in the Alps.
For the past 14 years, from a base in Dorset, I have run group Ropes courses, Climbing and Abseiling days out, Expeds, Organised sports related events and managed Luxury Catamaran holidays in the British Virgin Islands and Greece. 
Using this experience I am able to help you shape your plans and will deliver an outdoor activity holiday perfectly suited to your needs.
Jim Oakley Qualifications:
Coasteering instructor ~ for site specific in Swanage and Dorset locations.
RYA Yachtmaster ~ commercially endorsed sailing activities, which include Bareboat skipper and Flotillas.
RYA Powerboat Instructor ~ commercially endorsed, providing sessions in Water skiing and Diving safety boat.
PADI Dive master ~ to assist in Dive trips planning in Egypt.
BASI 2 Alpine ski instructor ~ hosting long weekends & week ski packages that include summer Glacier work in Tignes.
RYA Dinghy Sailing Instructor ~ teaching and planning within UK lakes and coastal waters.              
RCD Ropes course and Cowtails/Zip line instructor ~ working and planning groups in hire wire tree courses.
Rock Climbing Instructor ~ taking kids and adult groups around Swanage and other coastal areas along with Dolomites trips.
Mountaineering Ireland (MI) Multi pitch award trained.
Climbing wall leader award (CWLA) ~ teaching Individuals indoor lead climbing
CTC National Mountain Bike Trail Leader award ~ taking groups on South Downs to overseas training camps.
BCU Level 2 coach Kayak and Canoes ~ multiple DofE Kayak expeds
BCU 4 * star sea leader award ~ DofE Sea DofE expeds
ML (S) ~ Taking groups in DofE and overseas expeds to Europe, Peru & Venezuela.
Duke of Edinburgh Assessor - for Bronze, Silver and Gold assessments.
REC 4 Expedition first aid qualification
DBS checked and current
Overseas expedition leader for various companies with 7 school developmental expeditions to Peru, Venezuela and Morocco
BWSF Water Ski Boat Driver, training kids and adults in water skiing and wake boarding in Poole.              
Paragliding Pilot – hosting a variety of different European destinations and providing local area knowledge.
Activities planned over last decade
x8 Climbing school based trips to El Chorro, Malaga
x7 separate Ski trips to Val d'Isere "Premiere Neige" week 15 – 21 Dec staying in Chalets and ski training with "Ice Go Karting" and Torchlight descents included
Over 650 Coasteering sessions delivered to Families, Individuals, Scout groups, Hen and stag parties
Advice and coaching to Boot Camps for personnel esteem and fitness. Working with Brit Mil Fit as one of their Instructors and events team.
x15 separate "Summer Mountain Package" Glacier ski trips in Tignes Jul – Aug with Mountain Biking, Hydrospeed, Paragliding, Cayoning and Via Feratta staying in Self Catering and Chalets.
x12 separate "Dolomites Experience" summer weeks Jul – Aug includes Via Feratta, Canyoning, Paragliding, Golf fun sessions and Mountain Walks staying in Self Catering to Hotels accom. Delivered this to over 200 adults, Bourne Academy school and three families with children from 12-15yrs ·
x6 separate "Cycling training camps" in Albir, Nr Benidorm and Mallorca from Jan – Apr each year with cycle daily training trips from 30 –100miles from flat training to Mountainous areas. Staying in Hotels. ·
x5 "Dahab Dive experience" weeks usually in Sep catering for Novice to Rescue dive packages. Other activities include boat dives, Windsurfing, Kite surfing and Camel/Quad Bike dive safari.
x4 "Windsurf and Kitesurf" experience weeks in Canary Islands and Egypt usually all year available. Catering for Novices to Advanced capabilities. Staying in B&B's, hired or personal kit flown out. ·
x6 "Mountainous Hosting" in Switzerland, France and Austria covering a multitude of activities whilst travelling on 5-21 day trips staying in Campsites, Hostels, B&B and Hotels. Activities include guided Mountain scenic walks, Paragliding flying, River hydrospeed and rafting, Lakeland walks and Cycle touring.
x5 different Walking packages based along the World Heritage site of the "Jurassic Coastline" involving different distances to suit the needs of the group from 8-21 miles a day. Camping and B&B along route. ·
"Climbing Tasters session" around Poole area and in Wales areas.
x4 "Mountain Bike Bonanza" sessions around Wales, South Downs Way, Jurassic Coastline over two days sessions up to week long multi activities that include rock climbing, orienteering, Commando Challenge and walking/mtb routes. Camping or B&B's ·
"Ropes course Challenges" that are based from Corfe Castle, Nr Poole catering for kids to adult groups in 1-4 day sessions using Low/High ropes, MTB orienteering, Coasteering & Climbing. Staying in Campsites or in Outdoor Centres.
Planned a large variety of races & competitions involving, Triathlon, MTB challenge, South Coast challenge, Purbeck adventure weekend involving Water, Ropes courses, Cycling and Orienteering.